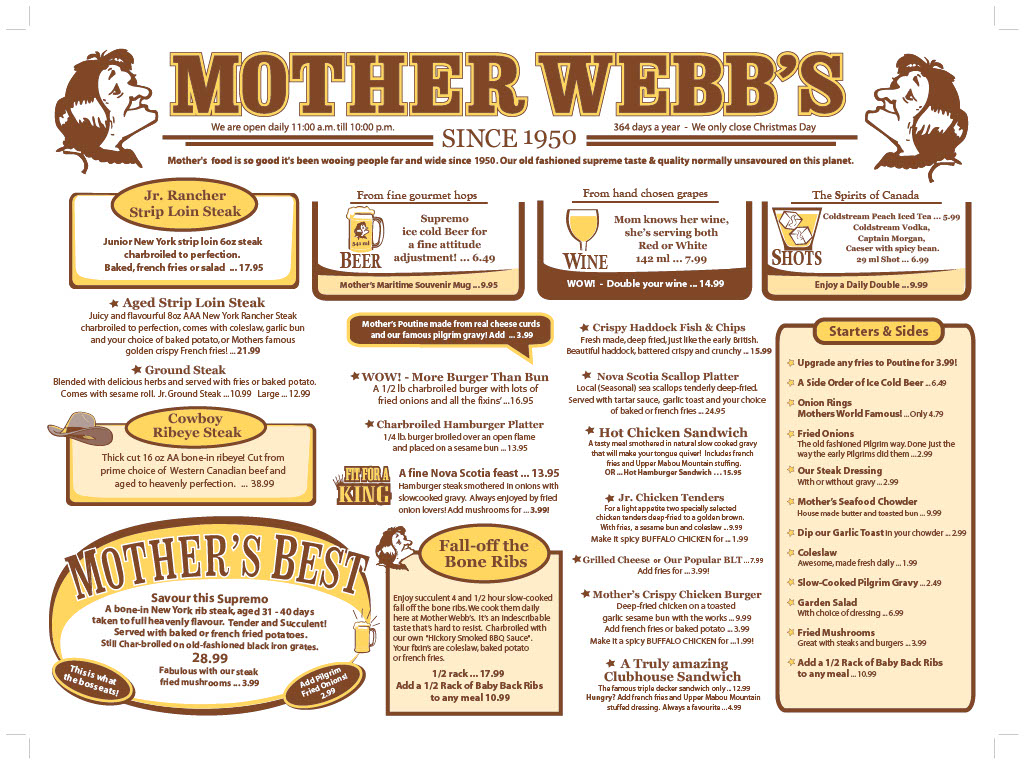 They're famous for their Charbroiled Steaks and Burgers. They use prime AAA Western beef, charbroiled to perfection. Here are their five (5) most popular foods:
The #1 item is bone-in New York rib steak, aged 31-40 days. They are still cooking them on the old fashioned red hot black iron grates. (same as the old fashioned black iron frying pan).
Their #2 is their home-made English Style Fish & Chips.
Their #3 is a Hot Chicken Sandwich, a recipe taken from the early pilgrims. The chicken is fresh cooked daily. Their gravy is slow-cooked for 8 to 12 hours. It is one of the signature memories at Mother Webb's. Slow home cooking is rare in North America since canned gravy has become popular.
The Club House Sandwich is fresh chicken, bacon, cheese, tomato, lettuce, and mayo. Thousands of customers never seem to lose their hunger for their Club House Sandwich.
The succulent fall off the bone ribs is slow cooked with smoked hickory BBQ sauce.
Their beer is always "ice-cold" 2 degrees above freezing. That's often cold enough to see ice crystals floating on the top.
Don't be nervous about trying the rest of their menu items. Mother Webb's has customer satisfaction that exceeds most restaurants in Nova Scotia.